Gefran Inc., formerly SIEI America and Gefran SIEI, is a manufacturer of high quality motion control products, including general purpose and system level AC and DC Variable Speed drives, as well as process control products such as sensors and controllers for pressure and temperature.
ARTDrive AC Servos
ARTDriveS XVy-EV – Systems Oriented Servo Drives from .75kW (1Hp) up to 630kW (700Hp)

* Power supply 3ph: 230V –15%…480V +10% 50/60Hz

±5% 575V ±10% 50/60Hz ±5% 75kW (1Hp) to 630kW (700Hp)
* Motor ratings from 0.75kW (1Hp) to 630kW (700Hp)

As part of the ARTDrive S family, XVy series servodrives offer advanced technology for Motion Contro applications, their high-bandwidth, powerful DSP and highly reliable power stage allows the drives to provide excellent control for a vast range of brushless servo motors.
Analog DC Drives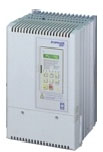 Typact TPd32 – 17A to 4800A Systems Oriented Digital DC Drive
*3 x 230Vac…400Vac, 50/60Hz; or 3 x 230Vac…500Vac,
50/60Hz;   or 3 x 230Vac…690Vac, 50/60Hz
* Rated currents: from 17A to 3300A (non-regenerative) and from 17A up to 2700A (regenerative)
* IP20 (IP00 for currents over the 1050A)

The Typact-TPD32 series of digital converters is a product of the ever growing technological demands of modern industrial systems, and draws on years of experience in the field of DC motor speed control. TPD32 is available in a wide range of motor power ratings and power supply types for solutions using both two quadrant and four quadrant operation. Designed to minimize user system requirements, the TPD32 offers a range of functions and dedicated application packages to cover the most complex requirements of modern industrial automation systems.
Analog DC Drives

TYPACT – TPy2/TPy3….1B,2B/4B
TYPACT – TPy2/TPy3…1B,2B/4B
Three-phase single and two quadrant armature converters.
* Supply: 1x 230V, 1x415V,3 x 415V, 3 x 500V, 3 x 660V
* Nominal currents: 20…4600A
* Protection degree: IP00

The power section consists of an internally controlled Graetz bridge for the power supply of medium and big DC motors with separate excitation. As for the field power supply the converter has a single-phase Graetz rectifier bridge supplied with an RC protection filter and a circuit with an excitation loss relay.
The three series, TPy3-415/480-…-2B, TPy3-500/600-…-2B and TPy3-660/800-…-2B are different only for the maximum power supply voltage on the power section and for a part of the regulation section connected via connector cable. Starting from the 110A size, the converters are forced-ventilated. The two quadrant functioning methods with a recovery braking and the three quadrant functioning methods with a reversible field controller (TPey2…4B) require the use of devices with the "+e" option. On the converter it is possible to put up to four "y" option cards (for "TPy..2B+e" a maximum of three) on the rear side of the regulation card with an internal connection to the converter via a flat cable and a FA… connector.
AC SERVO MOTORS
SBM Series – Continuous stall torque capability, 2 to 442 Nm, up to 4000 rpm
* Rated power supply voltage: 400Vac (230Vac and 460 Vac option)
* Rated speed: 1500, 2000, 3000 and 4000 rpm
* Continuous stall torque capability: from 2 to 442Nm
* Structure: B5 (B3&B5 option)

The SBM motors are available in six frame sizes, a wide continuous stall torque range (from 2 to 442 Nm) and speeds up to 4000 rpm